One of the new recipes I tried for Thanksgiving. Not bad at all!

Recipe courtesy of
Food Network Kitchen
From:
Food Network Magazine
Total:
1 hr Prep:
15 min Cook:
45 min

Yield:
8 servings Level:

Easy
Ingredients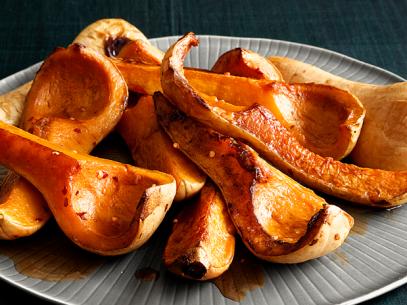 Directions

Slice 4 pounds butternut or calabaza squash into thick wedges and remove the seeds. Place cut-side up in a baking dish. Combine 1/3 cup maple syrup, 1/3 cup water, the zest and juice of 1 lemon, 1/2 teaspoon red pepper flakes, and a pinch each of salt and pepper; pour over the squash and dot with 4 tablespoons butter. Bake 20 minutes at 350, then flip the squash and bake until caramelized and tender, 25 more minutes, basting halfway through.
Calories: 161; Total Fat: 6 grams; Saturated Fat: 4 grams; Protein: 2 grams; Total carbohydrates: 29 grams; Sugar: 11 grams; Fiber: 3.5 grams; Cholesterol: 15 milligrams; Sodium: 46 milligrams